Transom windows: a useful design element
There are indeed very few architectural structures & details that have survived centuries of technological advancements & passing trends like transoms have. Whether it is transom windows over doors or other windows, this style has survived since its introduction in 14th century Europe when homeowners appreciated that an opening over an entrance would be high enough to avoid any prying eyes while allowing for a glimpse of the sky & some fresh air. Improvement in style & functionality came about with the development of leaded glass followed by sheet glass as well as hinges & iron bars to make it easier to operate the windows. Although transoms were out of fashion in the 1970s & 1980s, present day home-owners are rediscovering how these windows help inject an original touch to a space alongside adding in a little more natural light.
Starting cost for transoms is under US$100 for non-operable vinyl, aluminum or wood frames, and it gets pricier for operable or intricately designed ones. In some models, cladding is offered over a wood frame- this adds to the cost of exterior transoms AND also to essential weatherproofing; these oftentimes boast of a better quality and can go upto hundreds of dollars. For new residential constructions, it is not unusual to pay in thousands for a design which includes a door, sidelights & transom- all within a single sealed unit. 
Though installation varies according to the door & ceiling height, interior/ exterior wall, and weight-bearing scenario, the standard procedure for incorporating a transom is to do away with the drywall and/or exterior cladding above the door, and then remove a section of wall studs so as to re-frame that very section for accommodating the new addition. Once the window is set, a new drywall is installed on that section. For an exterior wall, the exterior cladding is then replaced. The last step is to install the window trim. It is important to make sure that the transom window is a structural fit to your home and not simply an unsightly decorative piece. High ceilings are more suited to transoms as compared to the standard 8 foot ceilings, although a couple of narrow window models may fit in over doorways in the typical non-load bearing interior partition walls. But, it is crucial to carefully determine the rough-in framing space needed for that specific model. Load bearing walls may need opening up of the entire wall section to change the framing & add more structural support, so it is advisable to seek professional help in choosing a transom window for an existing wall. Once you know the style & specifications of transoms most suited for your home, you can customize it further to your preferences.
Want something more for your windows? Here are some innovative ideas. And if you are looking for some professional guidance on home inspiration, homify free consultation is where you will find all your answers!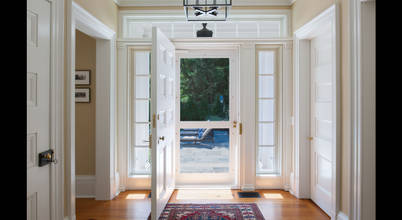 Video of Transom windows: a useful design element
Transom Windows: Where You Should Use Them And Why. Architecture . In architecture, a transom is a transverse horizontal bar that separates the door from the window that sits above it. It can also be a crosspiece above the doorway that allows for plenty of natural light. Transom windows: a useful design element . There are indeed very few architectural structures & details that have survived centuries of technological advancements & passing trends like transoms have. Transom Windows: Why Use Them. Architects will tell you that a transom is most useful in separating the framing from a door from the framing of a window. I think this example pretty much nails that purpose from a modern perspective. The chunky wood beam above the glass doors is committed to the six separate Frenchies below, while the beams in the roof snugly hold the three asymmetrical transoms in place. Frederick Replacement Window Costs. A transom window is a rectangular, angled or fan-shaped horizontal accent window above or below another window or door. Since they are mainly added for appearance, they are very commonly seen about front doors or large windows on the front of the house. Houzz.com. A transom is a window placed above the horizontal top frame of a door or window. Historically, when ceilings were higher and heating and cooling systems were more rudimentary, transom windows were an integral part of a home's ventilation. They're mostly decorative now and often fixed in place, although they can be installed so they will open with a casement hinge.
Tags: Transom Windows: A Useful Design Element
Soft-Lite Elements® Window
Best 25+ French Doors Patio Ideas On Pinterest
Set Window, Glass, Frame Stock Vector. Illustration Of
Week 4, Term- Rhythm Through Transition. This Term Is Used
Masonite Element Glass Insert
32 Best Images About Badger Exterior Doors & Millwork On
Used Commercial Glass Entry Doors /french Doors/ Front
Window Mullion Styles & Casement Windows Design Sc 1 St
ابواب منازل خشبية للداخل والخارج 2019
Havit Window And Door Co.,ltd-Aluminum And UPVC Window
A Set Of Illustrations For Website
MOST BEAUTIFUL WINDOW HOUSE DESIGNS
Glass Windows, शीशे की खिड़की, ग्लास विंडो, शीशे की खिड़की
Refresh Your Entryway With These Colonial Front Door
English Renaissance Architectural Element Window Glass
17 Best Images About Stained Glass Arches On Pinterest
Janelas Góticas. Quadros Antigos. Igreja De Vitral
Haustür Modern Von Sorpetaler
New, Custom & Replacement
Aluminum Frames For Windows & Patio Patio Doors
Gallery Of Mirror Tower / LAN Architecture
Blue Frosted Glass Texture And Background For Use As A Web
Stained Glass Style Vinyl Decal
Westosha Art: A Brief History Of The Elements And
Abstract Design Element, Illustration Background Royalty
Shiba Ryotaro Memorial Museum - Google Search
Closed Window Stock Vector. Illustration Of Design, Frame
Exterior Front Doors: The First Impression Of Your House
Composition In Art ,How To Draw Perspective, Narrative
Exterior Windows Between Studs Window Home Depot Used For
Antique Stained Glass Masonic Lodge Window At 1stdibs
Stained Glass Window Element With Hand-Painted Designs And
Tipos De Ventanas Que Puedes Poner En Tu Casa
Steel Casement Window
Symmetrical Design Elements And Fine-cut Stone Masonry
Polished Perth Design
Arianna's Blog
Painel Mdf Elemento Vazado Módulos 35cm No Elo7
Stained Glass Windows
The 25+ Best Faux Stained Glass Ideas On Pinterest
نمای ساختمان های جدید و مدرن اروپایی برای خانه های ویلایی
Trace Architecture Office
Garage Doors With Transom Windows Over
Cocinas Integrales Modernas Grandes Y Pequeñas Para El 2019
Door Glazing Types & Marvelous Exterior Door Types R34
Side Daylighting Controls
"Useful Design For Background, Window, Glass, Fabric
1000+ Ideas About Chemistry Classroom On Pinterest
Broken Glass Material, Bullet Holes, Shootings, Rupture
Open Window With Rainbow Vector Background
Boston Design And Interiors, Inc
Etched Glass Window Element Vinyl Sticker Decal Film G30
Double Pane Glass Door Panel Radiator Replacing Window
العزل الحراري الرئيسية الألومنيوم انزلاق زجاج النوافذ مع
Windows Lite Could Feature Some Windows 7 Design Elements
25+ Best Ideas About Glass Blocks Wall On Pinterest
Wood Entry Doors Applied For Home Exterior Design
Best 25+ Bow Windows Ideas On Pinterest
Fachadas Metálicas: 30 Projetos Diferenciados E Modernos
Grote Leren Bank In De Woonkamer
Free Background Texture
Stylish Design House With The Big Glass Windows Stock
New Arrival Frosted Galet 45*200cm PVC Windows Glass Film
Pencil And In Color Arch Clipart
Children's Bathroom Design Ideas
Espresso Finish Single Sink Vanity Set /White Stone Top
9 Best Blue Inspiration Images On Pinterest
1000+ Ideas About Grill Design On Pinterest
17 Best Images About Frosted Glass
Simple Geometric Mandala. Stock Vector. Illustration Of
Hot Home Design Trends That Are Here To Stay [Photos]
"Open Window Outside The Sea Landscape Reflection In The
Conception élégante De Vague Bleue Abstraite Sur Fond
Set Of Isolated House Window Frames. Wood Old Window Frame
22 Best Images About Entry Doors On Pinterest
Composite Windows & Doors
Environmental Graphics
This Stained Glass Dalek Is The Most Beautiful Villain In
Puerta De Patio Corrediza Línea Architect Series®
Secondary Glazing Suppliers For Stained Glass & Lead Light
Cut Agate Slabs Form These "stained Glass" Windows By
Vzorci Za Pergamano
Homebuilding & Renovating
Blinds & Shades For Andersen Windows & Doors
46 Best Images About Etched Windows On Pinterest
Doors & Windows : Window Treatment Ideas For Large Windows
Pitsou Kedem's Hall Contrasts Opaque And Translucent Materials
Country Home Decorating Ideas
Modern French Door With Solid Steel Thin Frame For Easily
Stained-Glass Door Made Of Pantone Swatches
Illuminated Bubble Walls Are Used Both As Design Elements
Raleigh Sunroom Builder
Raster Illustration Logo Symbol Abstract Image Stock
Glass Etching, For Residential, Dom Glass (Brand Of
Best 25+ Black Window Trims Ideas On Pinterest
Gothic Rose, Gothic Architecture Element Stock Vector
Living Room Interior In Flat Style. Vector Illustration
Used Church Items
An Interior Design Element And Many
11 Simple Ways To Make A Small Bathroom Look BIGGER
Floor To Ceiling Frosted Glass Office
Manufacturer Exporter Supplier In Kota India
Διαχωρίστε έναν Ενιαίο Χώρο στα Δύο με Αυτές τις
Bali Sliding Panels Roman Shade Fabrics: Bali Sliding
50x92cm Frosted Glass Film Window Stickers Static Matte
Etched Window Design: Amazon.com
1000+ Images About Glass Sandblasting Designs On Pinterest
Stained-Glass-Beach-Window-Octagon-web-size-water
Organicités Piraeus Tower
Living Room Bay Window Fireplace
Aluminium Alloy Sliding Window Grill Design For Sale
AWS 114 Windows, Schüco
Fenster · Glas · Steine · Element · Web-Design · 3D
لو عاوزة تجددي في شكل أبواب وشبابيك بيتك تعالي شوفي الجديد
Top View, Construction Symbols Used In Architecture Plans
Stained Glass Window In Cloisters Stock Photos & Stained
Gothic Church Window With Leaded Glass At 1stdibs
Buy Aluminium Windows And Doors Used Exterior Doors For
Contemporary Frosted Window Film
25+ Best Ideas About Window In Shower On Pinterest
Stronger, Better, Cooler, Effecient Windows
DIY Stained Glass Windows
KitchenAid® 30-Inch 4-Element Induction Freestanding Range